Getting a Start with Garden Art
Garden Art is a Personal Statement
We are spending more time in our outdoor rooms and it makes sense to carry art into the outdoors. Garden art is a personal statement that reflects who you are. It should fit the style of your garden, whether it is formal or funky. And as is true with all art, most of all, it should please you.
Winter is a good time for assessing where you might need to add some art, because that is when the bare bones of the garden are more evident.
Look for holes where you need something to draw the eye. Select something to be a focal point, whether it is a fountain, statue, or arbor.
Place large pieces to the back, just as you would larger plants, and allow them to draw you down the path.
A large scale rock can anchor a point. If you are bringing in a large rock, it is best to bury it by half to three quarters, so it looks naturally set into the ground.
Enhance all the Senses and Emphasize Natural Elements
Make the path meandering with gentle turns, so you come upon other unexpected elements, on a more intimate scale.
Provide seating so you can stay and contemplate the object within its environment.
Accent natural elements by providing for the other senses as well, with the sound of moving water, scented plants, or wind activated elements, such as kites, flags, and mobiles.
 Enhance your experience by using the drama of lighting. Wind white twinkle lights in a tree, or spotlight from below so that the trees' form is highlighted. String old fashioned bulbs, or paper lanterns.
Re-imagining Cast Offs to Create Whimsy and Surprise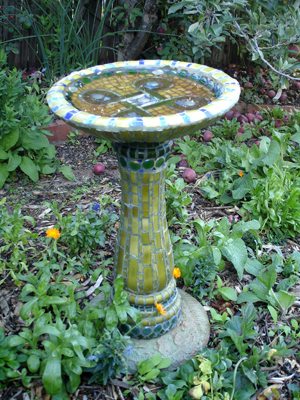 Many found or cast off objects make unusual trellises or planters , and add an element of surprise and often humor. Let your imagination play!
Mattress springs, with their spiral coils, might make an attractive trellis.
Rethink the possibilities for all types of containers for planting. An old claw foot bathtub can be a pond or planter.
A crystal chandelier hanging in the tree will catch the light.
Broken dishes and tiles can become a mosaic table top, or decorate a terra cotta pot.
Let your personality spill out into the garden with your collections. Expand your living space by making rooms in the garden, each with a different focus, such as quiet meditation, social gathering spots, or long views. Vary the types of garden art you might need in each space. There are so many ways to enjoy our gardens, bringing art outside just enhances that.
by Caren Catterall, creator of Gardening by the Moon