Our Story

Maxx (graphic design, photography, and publishing) grew up playing in the hay loft and picking sweet corn at their family's fourth generation farm. As a college student, they cultivated their love of herbalism and natural rhythms near the tidal shores of Lake Ontario. This love of rhythm evolved into hand drumming, and they regularly co-create disability-accessible gatherings to explore cycling patterns. Maxx made their first lunar calendar by hand more than a decade ago to give to friends. Over their years in the publishing and printing industries, they've created many other calendars combining accurate information and beautiful art.
Maxx holds a masters in Arts Education and has taught everyone from kindergarteners to grandmothers while integrating their students' wide variety of interests to deepen the learning experience. Since 2020, they have been thrilled to teach art remotely to students of all ages, and to mentor young LGBT artists through weekly virtual art lessons.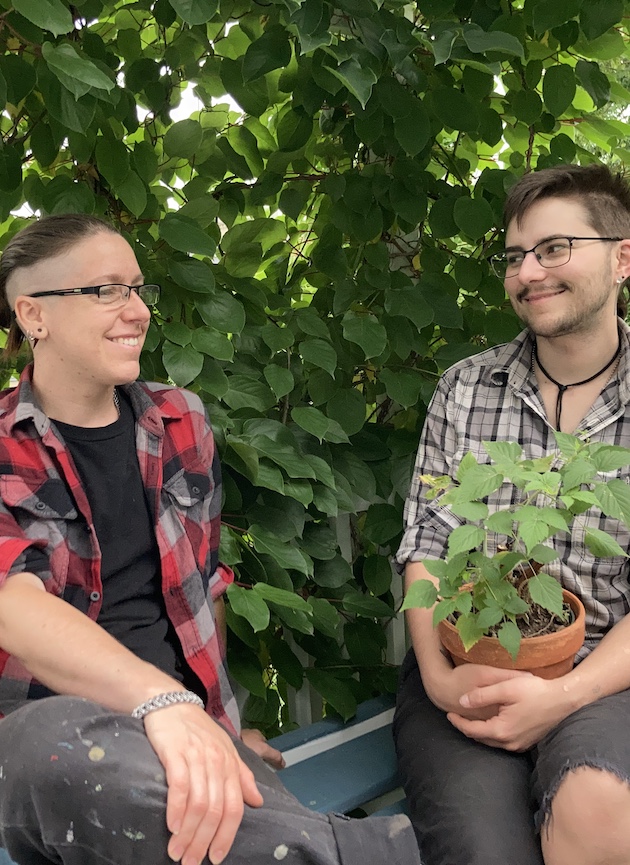 Toby (gardening know-how and sales/shipping) is an artist, writer, and gardening enthusiast who loves deep snow and new seedlings. He's wanted to be a farmer since the age of two and first encountered planting by the signs as a teenager working at a shiitake farm in the Blue Ridge Mountains, where the Gardening by the Moon calendar hung in the kitchen. A few years down the road, he led a group gardening project at a high-desert preschool and discovered the joy of sharing gardening—and rain!—with others.
After living in or visiting 46 of the lower 48 states and learning a wide variety of farming and gardening techniques from a wide variety of people, in 2017 Toby returned to his hometown to deepen his knowledge of the land he grew up on and to start his own farm. These days, he grows fruits, vegetables, and eggs to support the health of the soil, his community, and himself and is a seed steward for several of his favorite crops, including peas, beans, corn, kale, sunflowers, and tomatoes.

Maxx and Toby met in 2019 and immediately connected over their shared interests in art, education, humanity's intrinsic connection to nature, and the cyclical rhythms of time. Their first conversation covered a wide array of topics, from typefaces to workplace ethics to reconnecting to the lifeways of our ancestors both cultural and genetic, to food, gardening, farming technologies, and more.
Amid the upheaval of 2020, Toby and Maxx began gardening together on a 1/6 acre urban lot where they combine their knowledge, skills, and passions to foster abundance. Both had previously worked as public school teachers, and they discussed starting a publishing company to create and publish scientifically rigorous children's books and other materials blending art, education, and Earth-based learning.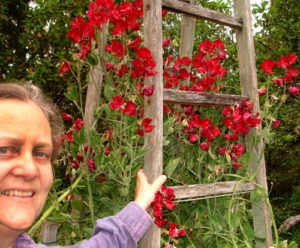 Gardening by the Moon's original creator, Caren Catterall realized in 2021 it was time to retire, and reached out to the customer base to see if anyone would carry it forward; Toby and Maxx responded immediately.
They already wanted to create beautiful, informative, Earth-centered publications together, and the artistry and scholarship of Caren's calendar ticked all the boxes. They were fortunate to have the skills, support, and means to take over publishing and both feel a deep gratitude to be the current guardians of this project.

Maxx and Toby are committed to creating a work environment that is healthy personally and ecologically, and started their company, Wolf Hill Press LLC, in 2022 to support themselves while living out those values.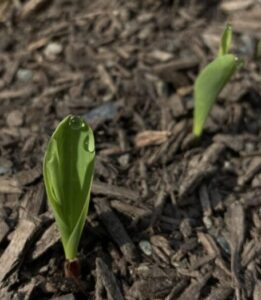 Since beginning stewardship of the calendar, Toby has been thrilled to have a good research project to dig into and spends a lot of time reading books on the scientific backing behind lunar planting.
Maxx has enjoyed bringing their publishing and photography expertise to such a heartfelt project, and to have more reasons to get their hands in the dirt and stare at droplets of water sparkling on seedlings.
Caren is happy to have found someone to carry it forward, as are the many customers who have relied on this planting guide for years.